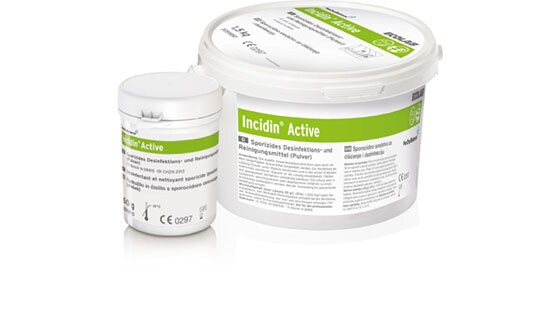 Incidin™ Active
Active oxygen based concentrate
Incidin Active is characterized by its broad efficacy spectrum (incl. viruses and spores) in combination with excellent cleaning properties and proven material compatibility, making this a trustworthy product for your high risk areas.
Product Details
Why Use Incidin Active?
With powerful cleaning and disinfection in one easy step, Incidin Active also gives:
Short contact times
Low application concentration
Our performance
Your advantage
Broad efficacy in short contact times
Incidin Active is specifically formulated to combine high disinfection performance against bacteria (incl. TB), yeasts, fungi, viruses and spores with excellent cleaning, even at low concentrations.

Its virucidal and sporicidal efficacy makes it ideal for use in Noro or C.Diff outbreak situations.
Cleaning and disinfection in one easy step
Incidin Active combines its broad efficacy spectrum with an excellent cleaning performance in one easy step, ensuring both efficient and reliable product use.
High material compatibility
The unique PerOxyBalance™ active concept with a neutral pH once applied to the surfaces to be disinfected ensures excellent material compatibility.
Application area
Incidin Active is a sporicidal concentrate for cleaning and disinfection of medical equipment and general surfaces in healthcare settings.
Instructions for use
To prepare working solution intersperse powder in water of drinking water quality and stir the solution several times. After 15 minutes the solution is ready to use. Surfaces to be wetted entirely. The working solution can be stored in a clean and closed bucket one working day. While using the product ensure sufficient ventilation.
Ingredients
Active ingredient of the solution 20g/L (2%): > 1000mg/L (ppm) peracetic acid. The active ingredient peracetic acid is formed when the application solution is produced.
For more information please refer to the product label/SDS.
---
---
Surface disinfection for medical products

0297
---
Use biocides with caution. Always read the label and product information before use.
Check Other Products For Your Surfaces Washing and Disinfection
Please see below related offerings: