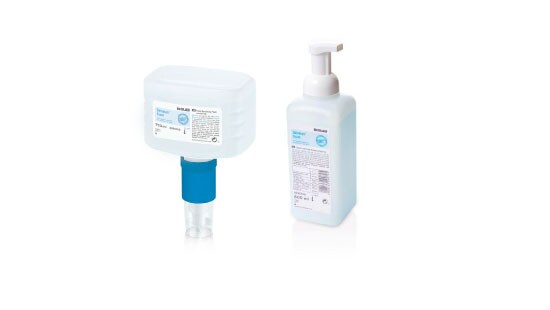 Skinman™ Foam

Innovative, Skin Friendly and Effective Hand Disinfection

Fully virucidal alcohol hand disinfectant dispensed as a rich, non-dripping foam.
Product Details
Soft on skin
Skinman Foam's unique formulation combines five skin friendly ingredients, keeping hands soft and healthy, whilst protected against HCAIs.
Hard on pathogens
With highly effective active ingredients, Skinman Foam is fully virucidal and has excellent microbiocidal efficacy according to the latest EN test standards.
Modern economical application
Skinman Foam dispenses into the hand as a rich foam without dripping. The unique non-sticky formulation spreads easily onto the hands and dries quickly.
Apply solution to dry hands. Rub thoroughly into the hands, ensuring all areas are covered for the entire contact time.
HANDS DISINFECTION
TESTING STANDARD
CONTACT TIME
Rub SkinmanTM Foam undiluted onto dry hands.
Keep hands wet during the entire contact time.
Hygienic Hand Rub
According to EN 1500: 2013 / VAH
30 sec
EURO standards (high load)
Norovirus (MNV) & Limited virucidal PLUS & Adenovirus
According to EN 14476: 2015
30 sec.
Virucidal Efficacy
According to EN 14476: 2015
90 sec.
Bactericidal Efficacy
According to EN 13727: 2015
15 sec.
Yeasticidal Efficacy
According to EN 13624: 2013
15 sec.
INGREDIENTS
Active ingredient per 100g: 73.6g Ethanol
STORAGE
Product should be stored in the original container below 25°C in a cool, dry location out of direct sunlight.
Use biocides safely. Always read the label and product information before use.
---
For professional use only.
---

0297
---
BIOZID N-74553
Related Offerings
Please see below related offerings: